Contact Us
We Ship All Around The USA!  ALL packages will be sent USPS PRIORITY mail service, and not be delivered to PO Boxes. At the most, you should expect delivery within 5 to 7 business days, but in many cases 3-5 days is the norm.  
Money Back Guarantee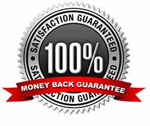 Now, if you're worried this might not be for you, don't worry, because you're covered with our:
 30 day, Unconditional 100% Money Back, love it or leave it guarantee!           That's right! It's a 30 day Unconditional 100% Money Back Guarantee.
 If you're not happy with the results for whatever reason at all, simply return the bottle(s) back to us, and we'll gladly and promptly issue you a 100% refund. The product needs to be returned USPS Priority mail, to our address below, with the pumps closed and taped as sent to you, with newspaper or something to support the product. ( Your money will be refunded minus the shipping going and coming). NO questions asked!
Our address is:
Elixhair Product Services
3231 Ocean Park Blvd. Suite #122
Santa Monica Ca 90405
(424) 2-ELIXHAIR  (424) 235-4942
We certainly hope you're loving the Elixhair Products you've purchased, but if you're needing to return something, Just ship it back with our address, which is shown above, and your name and address on the label that you attach to the box. All we ask is that you send us an email prior to returning it in a Priority Flat Rate Medium Box from your local post office, or no refund will be given. You have 30 days from purchase to follow the above procedure and have it back in our hands safely, or unfortunately the guarantte will be null and void.
Remember, if you have any questions at all about your order, simply send our support team an email at sales@Elixhair.com. We'll be happy to answer any questions you may have. We sincerely thank you for your business. Happy Styling.